Becoming a parent is one of the most important moments in your life. Your little bundle of joy is completely dependent on you and that responsibility may feel heavy – you want to give babies every single thing in your power.   To help you along the way, you'll be using a whole host of baby supplies, from infant car seats to diapers.  Don't forget items that will help momma too from this pre-baby registry checklist.
The reality is that baby products are expensive and these items add up.  It might even feel like you're emptying out your pockets to make the life of your baby comfortable. But you know what? If you are a little clever about it, you can get through the newborn stage without putting a massive hole in your bank account.
Let's break down the most important products that you need for your baby and then find a way to get it for free or at least highly subsidized!
Infant Car Seats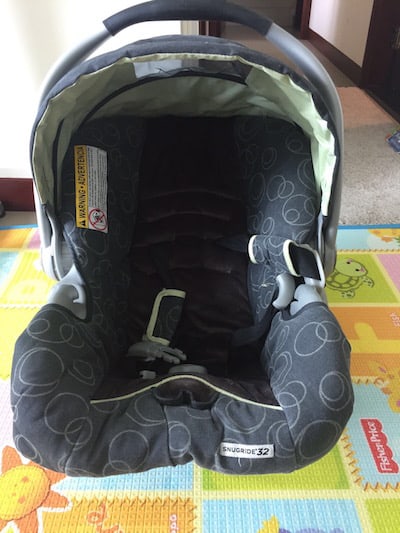 Choosing The Right Car Seat For Your Baby
Any car seat should be chosen to fit your child's size and weight. From birth to 12 months  your child should always ride in a rear facing car seat.  Infant car seats are specifically designed to be facing.   The American Academy of Pediatrics actually provides a list of car seats and manufacturers, which is an excellent guide.
Car Seats Expire
One little known fact is that most infant car seats have an expiration date of 6-8 years after manufacture.  Plastics don't last forever, and the integrity of the car seat can be compromised after wear and tear or just sitting in a hot car for years.
Do not settle for any free infant car seat that comes your way. Free baby car seats still need to adhere to the safety standards.  If you want one that lasts through toddlerhood, you will need to find a convertible car seat.
Where Do You Find A Free Baby Car Seat?
Free car seats are often available either from parents looking to reduce clutter (because baby stuff really does pile up!) or from organizations that assist low income families.  Most of these organizations are (by necessity) going to be local, so it's worth looking up your local departments.

Government Assistance
Health Insurance
Charities And Nonprofits
Private Organizations
Seat Installation
Getting a safe, free baby car seat is just the first step.  It's also crucial to make sure it's installed properly.  This goes for larger car seats as well as smaller ones.  A shocking 95% of new parents install their car safety seats incorrectly.  To avoid compromising your child's safety, certified technicians can actually install the car seat for you, typically for free.
There are sometimes car seat installation classes as well.  For example in Arizona, the CAPP (Children Are Priceless Passengers) program sponsored by the Phoenix's Children Hospital, offers a class on child safety seats, though the fee is $35.
Car Seat Accessory
We've compiled local resources in all 50 states at the bottom.  Click the button to jump to them.