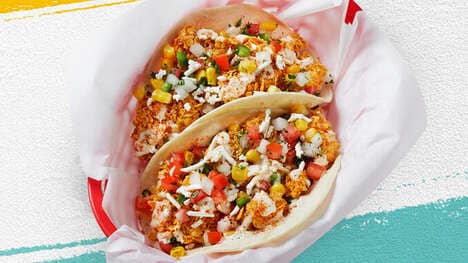 Just in time for the Lenten season, Fuzzy's Taco Shop has begun serving up a new seafood-forward Queso Shrimpico Taco.
Fuzzy's Taco Shop is well known for its queso – one of its signature items. Now, the ingredient is featured in a brand new dish called the Queso Shrimpico Taco. This cheesy dish consists of tempura shrimp or grilled shrimp, paired with fresh corn pico, garlic sauce, and feta in a flour tortilla. The whole thing is then drizzled with the brand's signature queso and seasoned with a little bit of Fuzzy Dust.
The new Queso Shrimpico Taco is a limited-edition dish and is currently available from participating Fuzzy's Taco Shop locations for dine-in, takeout, and delivery now through March 28, 2021.
Image Credit: Fuzzy's