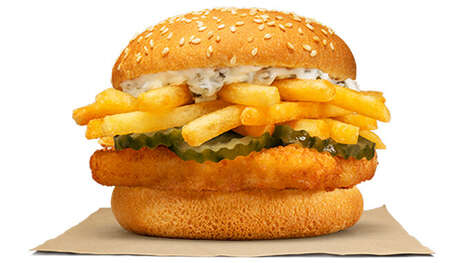 Though it seems that every fast food brand has a fish sandwich out right now, Burger King New Zealand's new Fish & Chip Butty is a little bit different.
Just as the name suggests, Burger King's new Fish & Chip Butty has essentially transformed the classic dish of fish and chips into a portable sandwich format. The whole thing starts with a golden fish patty, which is topped with crispy French fries, pickles, and, of course, tartar sauce. If the fries are a step too far for you, Burger King New Zealand is also currently serving up a classic Fish Burger that is made without the fries and swaps the pickles for cheese.
Both of the new seasonal fish sandwiches can currently be found from participating locations for a limited time.
Image Credit: Burger King New Zealand