Smartphone shipments in India declined in the first quarter of 2022. The decline is also for the third consecutive quarter in a row. The report comes from International Data Corporation's (IDC) worldwide quarterly mobile phone tracker. The January – March period recorded 37 million smartphone shipments, which is a 5 percent drop year-on-year during the same period last year.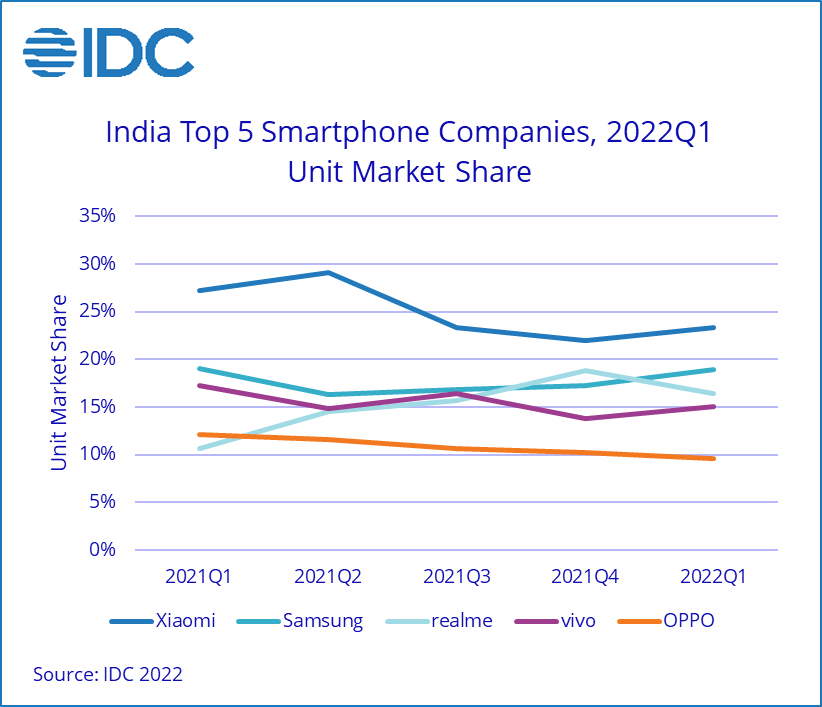 The third COVID wave, supply shortages, and rising inflation were the reasons for low shipment levels. Offline shipment channels also fell 13 percent YoY basis. Due to increased prices of new and existing devices, the average selling price (ASP) also rose to an all-time high of Rs 17,000 ($221) for the fourth consecutive quarter. 
As per the report, Xiaomi led the smartphone shipments with 8.5 million units and a 23.3 percent market share. Samsung came second with 7 million units, whereas Realme and Vivo bagged third and fourth spots with 6 and 5.5 million shipments, respectively. OPPO completed the top five list with 3.5 million shipments. Barring Realme, all four brands had a negative year-on-year change in shipments for Q1 2022. 
Only Realme managed to clock yearly growth in India during the period, with a 46.3 percent rise compared to Q1 2021. 
Xiaomi dominated the online channels with a 32 percent share. Samsung's Galaxy S22 series witnessed a strong demand. The South Korean brand maintained its lead in the 5G segment with a 29 percent share, thanks to the Galaxy M32 and Galaxy A22. Realme stuck to the second position in the online space driven by affordable C-series smartphones. Meanwhile, Vivo led the offline channel with a 24 percent share. IDC expects the brand's online shipments to improve with new T-series smartphones and devices under the iQOO brand. 
As per the IDC report, shipments in the sub-$200 (~Rs 15,000) price bracket dropped by 16 percent however, the mid-range segment between $200-$300 (~Rs 15,000-Rs 23,000) grew by 18 percent. The premium mid-range segment from $300-$500 (~Rs 23,000-Rs 38,000) registered a growth of 75 percent YoY basis. The premium segment above $500 (~Rs 38,000) accounted for a 5 percent market share, with 60 percent of shipments coming from Cupertino-based giant Apple.
Related: